Making Snow Clearance a Municipal Responsibility
In Chicago, winter is always coming.
Developed in partnership between Access Living and Better Streets Chicago, Plow the Sidewalks seeks to make sidewalk snow and ice clearance a citywide municipal service.
Current System
Right now, the removal of snow and ice is the responsibility of adjacent property owners as outlined in the Municipal Code of Chicago (4-4-310 and 10-8-180):
"…a property owner, lessee, tenant, or other relevant person is responsible for removing "snow and ice from any sidewalk abutting such [property], and any sidewalk ramps intersecting such sidewalks."

However, this does not account for a large number of locations, such as:
Curb cuts
Bus shelters
Highway over/underpasses
Bridges
Industrial sites
Sick, injured, or elderly property owners
Vacant buildings or lots
Inattentive or absent landlords or business owners
Fines and Enforcement
Failure to appropriately shovel can result in a fine up to $500, however, these citations are rarely issued. In 2022, WBEZ reported that of 6,000 complaints, the City only issued 1,600 citations.
---
---
Who benefits from municipal snow clearance?
Everyone. In particular…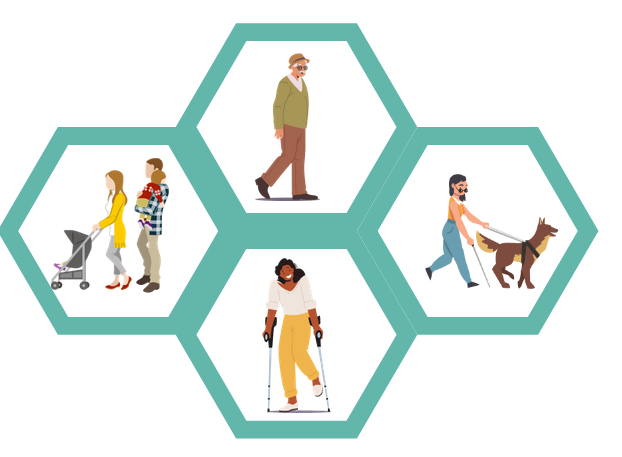 170,000 residents with mobility difficulties
70,000 residents with blindness or vision impairment
335,000 senior citizens
110,000 households with at least one child under the age of 6
Additionally, there are innumerable people who do not have the option of staying or working from home, paying for rideshare, or owning their own car and need to be able to access public transportation. When snow and ice are not properly cleared they become hazardous to people and property.
Other positive outcomes:
Economic: When sidewalks are cleared, people can visit the local businesses in their neighborhoods, which are often independently owned
Public Safety: More people on the sidewalks means more eyes on the street and more intra-neighborhood familiarity
Environmental: Prioritizing pedestrian infrastructure enables people to reduce their car usage
Examples of sidewalk plowing programs in other cities:
Local
Wilmette (≈37″ annual snowfall)
Forest Park (≈37″ annual snowfall)
National
Rochester, NY (≈99.5″ annual snowfall)
Syracuse, NY (≈118″ annual snowfall)
Minneapolis, MN (≈52″ annual snowfall)
Holland, MI (≈70″ annual snowfall)
International
Montreal (≈82″ annual snowfall) and Toronto*, Canada (≈47″ annual snowfall)
*It should be noted that Toronto, Canada, is nearly identical to Chicago in size, scale, and population density. Toronto and Chicago also have comparable miles of sidewalk and topography, but Toronto receives more annual snowfall than Chicago.
---
Supporting Organizations
Access Living
AARP – Illinois
Active Transportation Alliance
AIDS Foundation of Chicago
BPI
Better Streets Chicago
Center for Neighborhood Technology
Chicago, Bike Grid Now!
Chicago Family Biking
Chicago Jobs with Justice
Elevated Chicago
Equiticity
Free to Move Coalition
Independent Drivers Guild of Illinois
Jewish Council Urban Affairs
Metropolitan Planning Council
Metropolitan Tenants Organization
Northwest Center
Palenque LSNA
Shared Use Mobility Center
Southwest Collective
Urban Environmentalists
Westside Justice Center
Supporting Members of Chicago City Council
1st Ward – Ald. Daniel La Spata
12th Ward – Ald. Anabel Abarca
20th Ward – Ald. Jeanette Taylor
22nd Ward – Ald. Michael Rodriguez
25th Ward – Ald. Byron Sigcho-Lopez
33rd Ward – Ald. Rossana Rodriguez
35th Ward – Ald. Carlos Ramirez-Rosa
36th Ward – Ald. Gilbert Villegas
40th Ward – Ald. Andre Vasquez
43rd Ward – Ald. Timmy Knudsen
47th Ward – Ald. Matt Martin
49th Ward – Ald. Maria Hadden
50th Ward – Debra Silverstein