Laura Saltzman
Transportation Policy Analyst
Access Living fights for equitable access to transportation for people with disabilities
We tackle a variety of issues such as access to sidewalks, public transportation, paratransit, and shared mobility options. We work towards these goals through public information and awareness, regulatory and policy changes, legislative/budget advocacy, and litigation.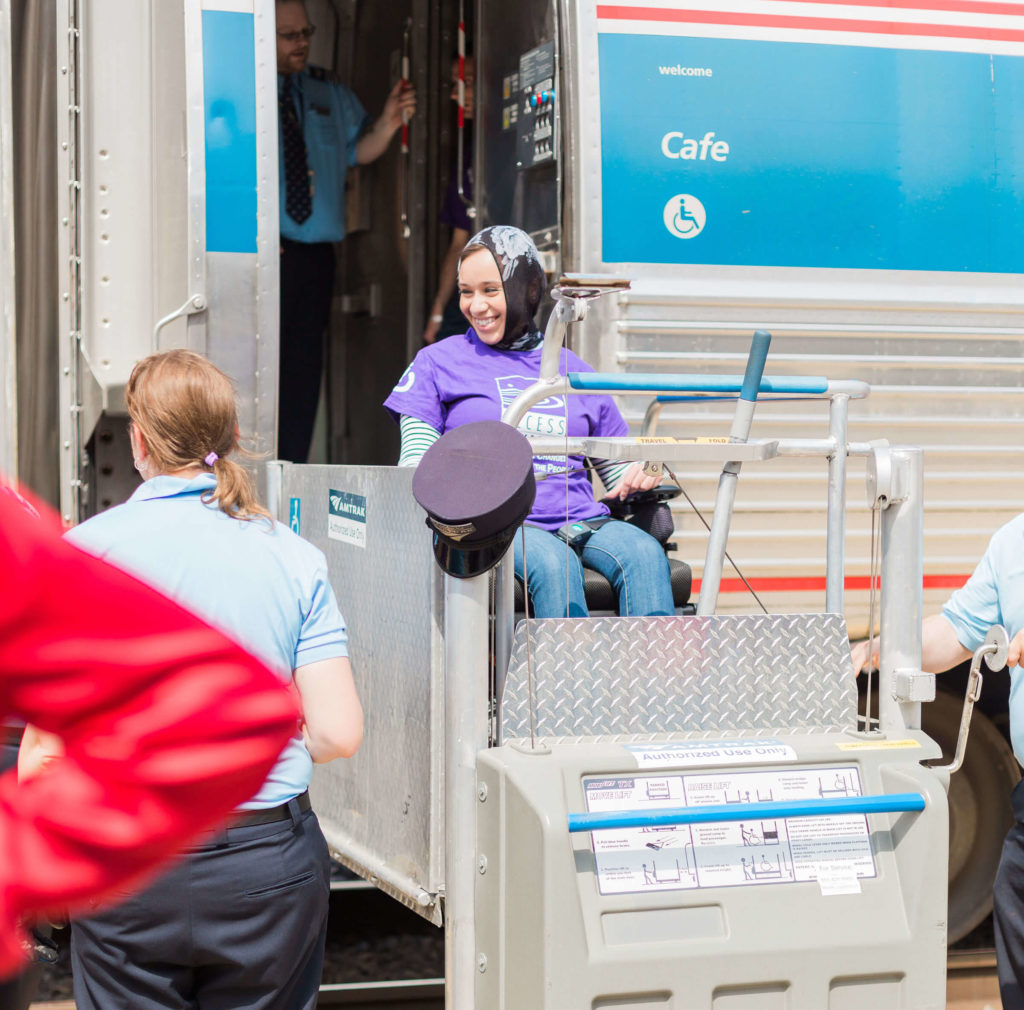 Our transportation policy work
Our transportation policy work is perhaps more important today than it has ever been. How people access transit is changing at a staggering rate, and we don't want people with disabilities to be left behind.
In major cities across the globe, people are opting for private ride share services instead of public transportation, or are using other transit options created by shared mobility technology. Ride-share services and dockless mobility options such as scooters benefit many, but they are far from a good option for all:
Ride-share companies can be expensive, particularly to low-income people.
Ride-share services are often inaccessible to people with disabilities, particularly those who rely on mobility devices.
Because new options have led to a drop in ridership, fixed transit routes (such as provided by public buses and trains) are being reduced, and hours are being cut. This could lead to disabled riders losing paratransit coverage.
The disability rights movement fought for and won the passage of the ADA and for the accessibility standards public transit agencies follow However, it is much harder to force private companies to comply with these standards.
Dockless scooters and bicycles threaten more accessibility reductions, block sidewalks, and make travel less safe for everyone when users operate them inappropriately.
How do we continue to advance access to transportation for all people with disabilities without losing ground in this changing landscape? That's the big question Access Living we're working to answer.
Current transportation policy projects
Access Living wants a completely integrated and universally accessible transit system, not just in Chicago but everywhere, so disabled people have the same level of access and options no matter where they go. With that in mind:
Access Living makes sure that people with disabilities have a voice when transportation decisions are being made. To improve Chicago-area transit, we work with the Regional Transit Authority (RTA), Pace paratransit, and the Chicago Transit Authority (CTA); serve on advisory committees; and build relationships with transit agency leadership.
We participated in former Mayor Rahm Emanuel's Taskforce for New Mobility, which presented its findings in early 2019. Access Living recommended policies to ensure the disability community has meaningful access to shared mobility devices as they are developed and brought online.
We are working to ensure continued and enhanced access to CTA buses. Thanks to the ADA and subsequent litigation, all buses have ramps or lifts. However, we need to ensure that the CTA system runs in a way that's operationally accessible to people with all kinds of disabilities.
We continue to hold the CTA accountable to its All Stations Accessibility Platform, a plan that calls for all remaining inaccessible rail stations to be made accessible in the next 20 years.
We work on national coalitions addressing the accessibility of autonomous vehicles and airplanes.
Our community organizing around transportation issues
Several of Access Living's community organizing groups, including Power to the People (PTP) and Disability Rights Action Coalition for Housing (DRACH) address transportation issues as they arise. Visit their group pages to learn more.