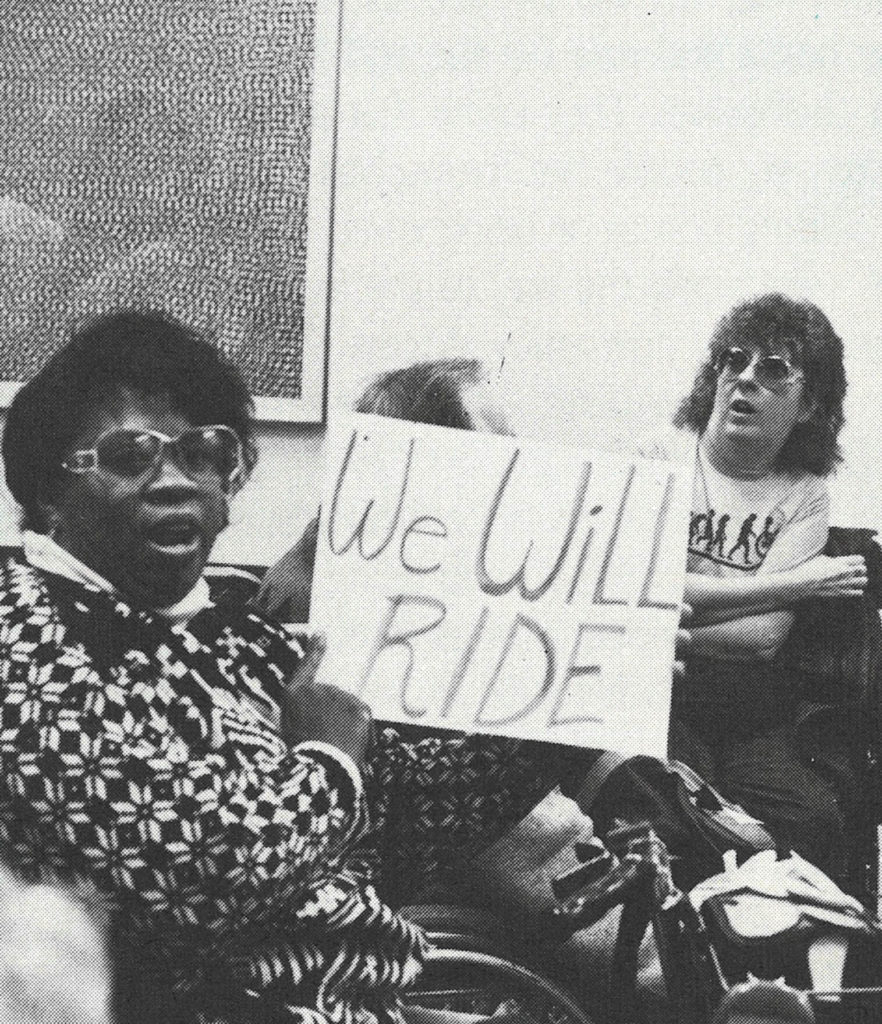 Status: PASSED!
The ASAP Act passed into federal law in July of 2021
THANK YOU to the many advocates and elected officials for the diligent work that ensured the ASAP Act was passed!
---
**Below you will find an archived version of the ASAP Act's original advocacy page, facts about the ASAP Act, and list of supporters leading up to the bill's passage.**
Access to public transportation was one of the earliest advocacy issues for people with disabilities as we sought to find ways to live our best lives in our communities. While there has been progress in public transportation accessibility, the Federal Transit Administration stated that, as of 2019, 20 percent of all public transit stations across the country failed to meet accessibility criteria.
The time has come for real access to public transportation.
The ASAP Act (S. 1680) would establish a discretionary grant program that supports local transit authority and commuter rail efforts to increase the number of existing accessible stations or facilities that meet or exceed accessibility design standards under the ADA for rapid rail and commuter rail systems. The program would appropriate $10 billion over 10 years – at least $1 billion annually – for this grant program.
In order to further the ASAP Act, we ask for the support of national, state, and local organizations and agencies: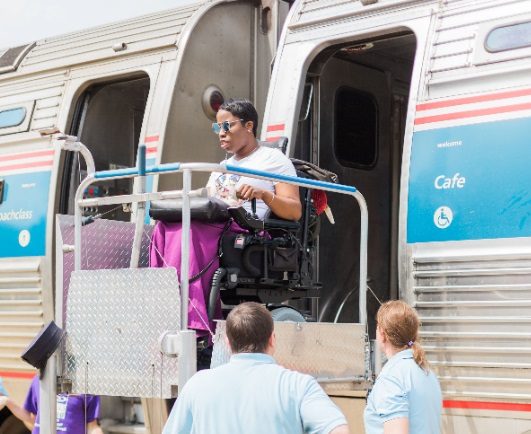 Agencies and organizations interested in being added to the list of supporters may use this link to sign on and to receive occasional action alerts and updates on the bill's progress.

Use this link to send an email to your members of Congress to urge them to sign on to the ASAP Act.
---
All of the supporters of the ASAP Act will be listed on the ASAP Act page on Access Living's website. You can view the full list of supporters of the ASAP Act below.
---
Background of the ASAP Act:
In May 2021, members of Congress introduced the All Stations Accessibility Program (ASAP) Act of 2021, legislation that aims to help make public transportation systems more accessible to people with disabilities.
In the U.S. Senate, the ASAP Act was introduced by U.S. Senator Tammy Duckworth (D-IL), Senate Committee on Banking, Housing and Urban Affairs Chair Sherrod Brown (D-OH), and U.S. Senate Special Committee on Aging Chair Bob Casey (D-PA).
In the U.S. House, the ASAP Act was introduced by Congressman Jesús "Chuy" García (IL-04), and Congresswoman Marie Newman (IL-03) members of the Transportation and Infrastructure Committee.
For more information about this bill, contact Amber Smock, Director of Advocacy, at asmock@accessliving.org.
---
Supporters of the All Stations Accessibility Program Act of 2021:
National
AARP
American Council of the Blind
American Foundation for the Blind
Center for Neighborhood Technology (CNT)
Disability Rights Advocates
Disability Rights Education and Defense Fund
National Council on Independent Living
National Disability Rights Network
Not Dead Yet
Paralyzed Veterans of America
Shared Use Mobility Center
State
The Statewide Independent Living Council of Illinois
Local
Access to Independence (Madison, WI)
Access Living (Chicago, IL)
Active Transportation Alliance (Chicago, IL)
ADAPT Central Region (New York State)
Atlantis Community (Denver, CO)
Blue Ridge Independent Living Center (Roanoke, VA)
Central Iowa Center for Independent Living (Des Moines, IA)
Center for Independence (Lakewood, WA)
Center for Independent Living of Central PA (Harrisburg, (PA)
Chicago Transit Authority (Chicago, IL)
City of Chicago (Chicago, IL)
Coalition for a Modern Metra Electric (Chicago, Illinois)
Collaborative Community Housing Initiative (Highwood, IL)
Direct Advocacy & Resource Center (Tucson, AZ)
Disability Network Southwest Michigan (Kalamazoo, MI)
Disability Resource Center (Joliet, IL)
Downstate New York ADAPT (New York, NY)
Elevated Chicago (Chicago, IL)
ENDependence Center of Northern Virginia (Arlington, VA)
Gulf Coast Adapt (Houston, TX)
Illinois Valley Center for Independent Living (Lasalle, IL)
Independence First (Milwaukee, WI)
Independence Northwest (Naugatuck, CT)
Independent Living Center of the Hudson Valley, Inc. (Troy, NY)
LINC, Inc. (Swansea, IL)
Metra (Chicagoland area)
Metropolitan Planning Council (Chicago, IL)
Neighborhood Access (Concord, NH)
New York City Chapter of United Spinal Association (New York, NY)
New York Lawyers for the Public Interest (New York, NY)
Pathways For The Future, Inc. dba/Disability Partners (Sylva & Asheville, NC)
Placer Independent Resource Services (Auburn, CA)
Progress Center for Independent Living (Forest Park, IL)
Progressive Independence (Norman, OK)
Riders Alliance (New York, NY)
Rise and Resist Elevator Action Group (New York, NY)
Robin Vogt for Portsmouth City Council (Portsmouth, New Hampshire)
Search Inc/JJ's List (Evanston, IL)
Service Center for Independent Life (Claremont, CA)
Spina Bifida Association of Northeastern New York (Scotia, NY)
United Spinal Greater Philadelphia Area Chapter (Philadelphia, PA)
Temple Sholom of Chicago (Chicago, IL)
Town of Brookhaven Disability Task Force (Brookhaven, NY)
Will-Grundy Center for Independent Living (Joliet, IL)
Working on Wellness Foundation (Mokena, IL)
---