Then and Now: Nothing About Us Without Us
---
Young Professionals Council
The Young Professionals Council (YPC) is a diverse group of young leaders who support Access Living.
This enthusiastic group of young professionals is igniting change. YPC members engage with their peers, grow their professional networks, give of their time and their talents and raise funds to support the work of Access Living – all while having a lot of fun.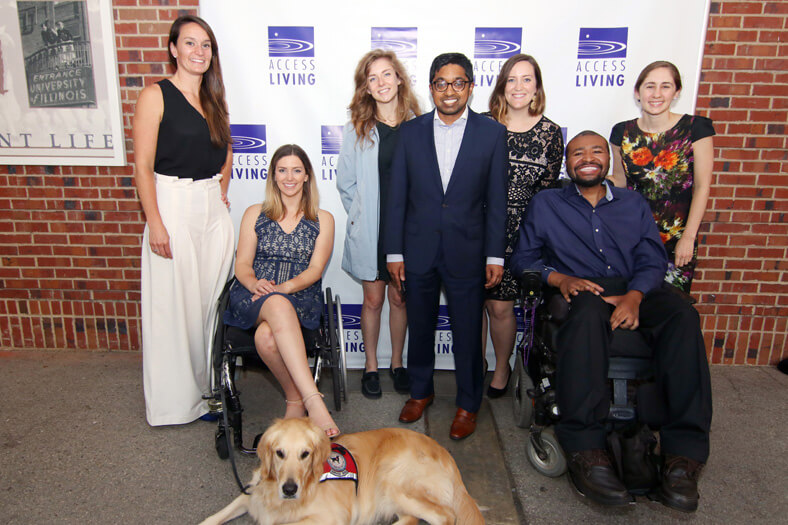 This year, the Young Professionals Council hosted a spring fundraiser to support our work and to create awareness for young professionals in Chicago about how we work alongside and advocate for people with disabilities in Chicago to live self-directed lives as independently as possible in the community.
For more information on how to become involved in the Young Professionals Council, email YPC@AccessLiving.org.
Officers
Justin Cooper
President
Rachel Wittenberg
Social Media Chair
Elizabeth Cummings
Co-secretary
Laura Maule
Co-secretary
& Friendraising Chair
Michelle Bonin
Friendraising Chair
Ellis Wills-Begley
Recruitment Chair
Members
John William Abbate
Azeema Akram
Chris Alessia
Natalia Avila
Margot Babington
Becky Baker
Ray Baker
Molly M. Bathje
Brianna Beck
Drew Beres
Jasmine Betancourt
Maggie Bridger
Jenny Burke
Jezabel Cardenas
Kate Connolly
Melissa Dappen
Anton Dietzen
Abby L. Draper
Chelsea Emond
Bridget Evans
Alicia Gallegos
Katie Garvey
Tara Giuliano
Kevin Griffin
Emily Hall
Jess Hauert
Stephen D. Hiatt-Leonard
Russell Houser
Rachel Howland
Megan Hufnagel
Kelsey Ibach
Ben Jacobi
Leigh Juranitch
Ravi Kasi
Catherine A. Kistler
Kapil Kumar
Angela Larson
Jonathan Lira
Zhiying Ma
Chaitanya Manchanda
Ashleigh Mansker
Amy Mashburn
Janie Mejias
Abraham Melendez
Kaitlin Miller
Aziza Nassar
Greg Oguss
David Pirszel
Jessica Pitts
Caitlin Regan
Sylvie Sabones
Elizabeth Schroeder
Ray Shipley
Morgan Stasell
Bradley Stavros Heit
Alan Stupnitsky
Maggie Sugrue
Glenna Sullivan
Alex Tapas
Kim The
Hannah Thompson
Ismail Umer
Caitlin Urbain
Will Vandenberg
Amelia Wallrich
Kelsey Watters
Michael P. Welch
Alli Wickes
Temaka Williams
Elizabeth Wirtz