Portrait of Marca Unveiled
Time-lapse Video of Painting Process
Renowned Chicago mouth painter, and gun violence survivor, Antonio Davis, painted the portrait of Access Living's founding President and CEO Marca Bristo. Watch a time-lapse video of his painting process:
The completed portrait now hangs in Access Living's Lobby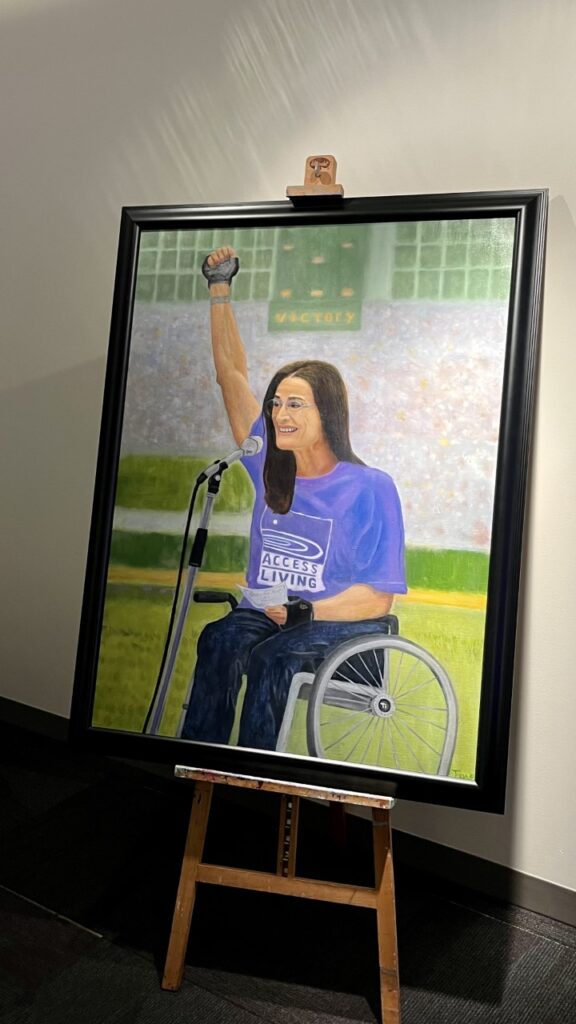 Image ID: Painting of a middle-aged Marca Bristo, a white woman with glasses and long, dark hair. She's sitting at a microphone in her manual wheelchair, wearing a purple Access Living t-shirt, her fist in the air. She speaks to a stadium crowd, loosely depicted in the background, with a sign over her head on a scoreboard that reads "Victory."
Welcoming Donors, Reflecting on Marca's Legacy, and Looking Ahead
A group of dedicated Access Living supporters gathered October 20, 2021 to honor Marca Bristo and her vision for this organization — a vision that we all share — to create a world free from barriers and discrimination, where disability is a respected part of the human experience and people with disabilities are included and valued.
When it comes to disability rights and justice we simply can't rest on our laurels — not now — not ever. That was top of mind when our board selected Access Living's next president and CEO, Karen Tamley.
Watch the Event
Donors Recognized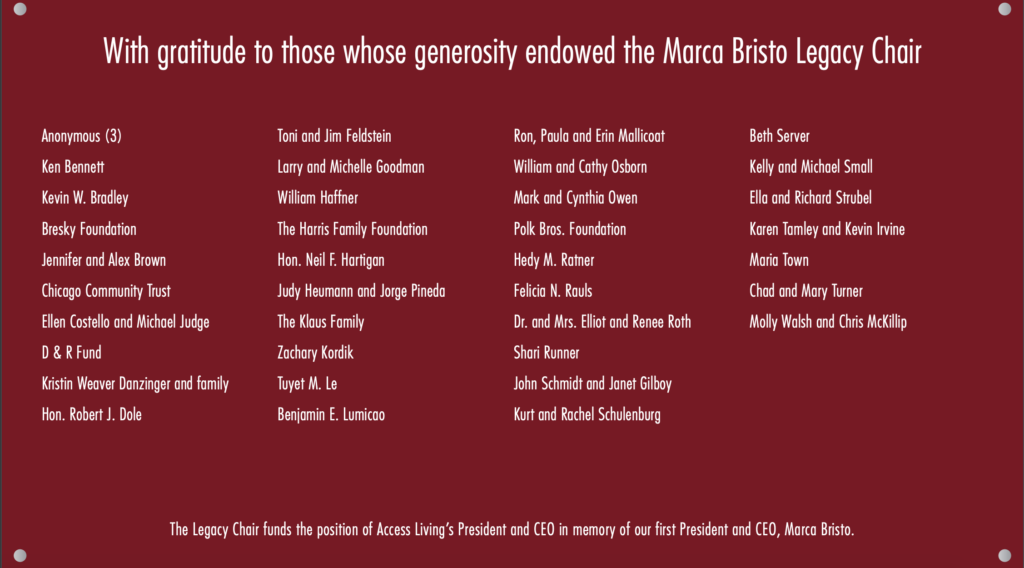 Image ID: Red wall with white writing listing donor names and explaining that the Legacy Chair funds the position of Access Living's President and CEO in memory of our first President and CEO Marca Bristo.