Disability Culture Activism Lab Artists Selected for Exhibition at La Grange Art League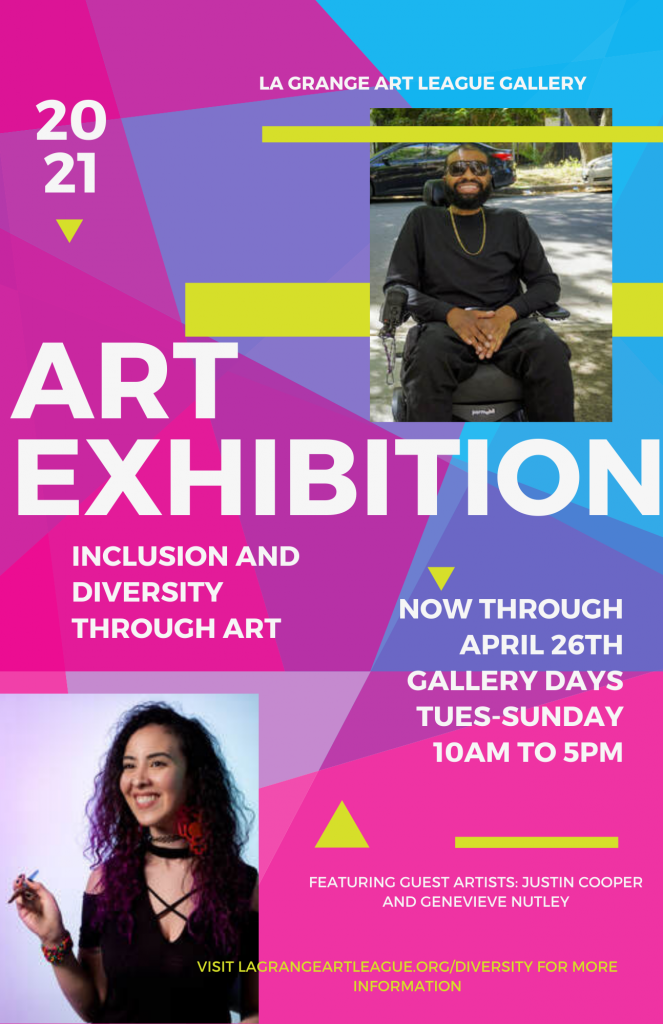 This April, DCAL Junior Artists-in-Residence Justin Cooper and Genevieve Nutley are the featured guest artists at the La Grange Art League in La Grange, Ill. The La Grange Art League Inclusion, Diversity and Outreach Task Force created a program welcoming monthly guest artists to share their stories of diversity, challenge and inspiration. This program offers developing artists an opportunity to display and sell their artwork for one month and express their unique viewpoints in a welcoming environment.
Experience the art of Justin and Genevieve throughout April at the La Grange Art League. The exhibition is free and can be viewed between 10am and 5pm Tuesday through Sunday. Stay tuned for details on an upcoming virtual artists talk with Justin and Genevieve!
Learn more about the exhibition here.
Artist Bios:
Justin Cooper is a black filmmaker, artist and disability advocate who has been working in art and film professionally since 2012. The lack of media representation amongst people with disabilities motivated him to work on his own documentary film called The Wheelchair Chronicles. Justin is currently the president of Access Living's Young Professionals Council, the Head Marshal of the annual Chicago Disability Pride Parade and does advocacy work for Advance Your Leadership Power (racial/social justice advocacy group at Access Living), and the Chicago Disability Activism Collective (CDAC). In March of 2018, Justin founded his own media company called Cooper Industries. This company focuses on his filmmaking, film production, and photography work.
Genevieve Nutley is a Latinx painter and disability advocate. At the age of 20, Genevieve survived a horrific car accident that left her with a spinal cord and brain injury. During her rehabilitation, she discovered her gift as a painter through art therapy. Genevieve is a self-taught painter and has participated in various shows and galleries. Genevieve is inspired by the beauty of the world, including the positivity and love around her, which she holds dear to her heart. Her art incorporates her attraction to bright colors of acrylics along with the themes of femininity and empowerment. She paints many self-portraits with surreal and abstract themes. Every new self-portrait is a chance to recreate herself from the lessons she learns from life. She believes that personal is political and the very personal is art. Website: www.genevieverawart.com