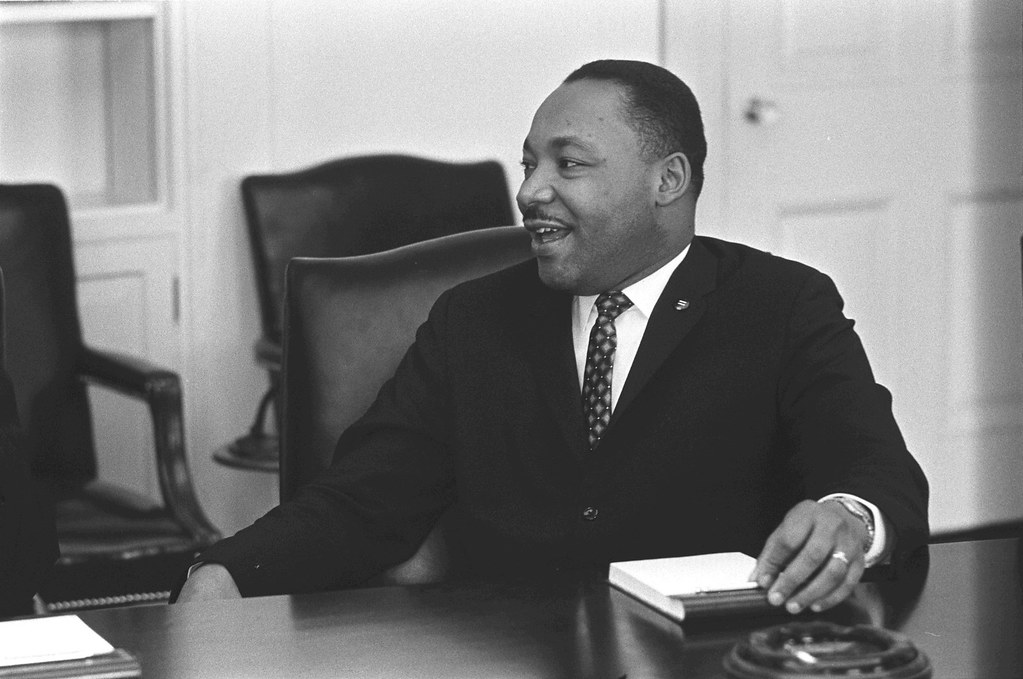 "A day on, not a day off."
Martin Luther King Jr. Day is often seen as an opportunity to volunteer or give back to our communities. Below, you'll find a list of virtual and in-person service activities happening around the country on Monday, January 16.
2023 Martin Luther King Jr. Day of Service
Chicago History Museum | MLK Jr. Day Family Event
1/16/23, 10:30am – 3:00pm
Commemorate the enduring legacy of Reverend Dr. Martin Luther King Jr. at our annual family-friendly event. Join us as we reflect on his life and work—particularly in Chicago such as the Chicago Freedom Movement—through special family-friendly activities and performances for all ages.
In person event
Cost: Free
Masks: Not required
My Block My Hood My City | MLK Day of Service 2023
1/16/23, 10am-12pm
In honor of Dr. Martin Luther King Jr., My Block My Hood My City is collecting food, PPE, winter apparel (hats, gloves, scarves) and home goods for delivery to over 500 seniors across Chicago. Come out on King Day at 10am to help them serve seniors. Bring items for donation to seniors, or come with room in the car for a food box and additional home goods to make deliveries to two to three seniors.
Chicago CARES
1/14/23 – 1/16/23
Chicago CARES has multiple volunteer opportunities throughout MLK Day weekend.
Masks: Required during all volunteer events
Saturday, January 14
Sunday, January 15
Institute for Nonviolence Chicago | Building the Beloved Community
1/16/23, 10:00am – 1:00pm
On this day of remembrance, join the Institute for Nonviolence Chicago for a two hour introduction to "Building the Beloved Community" using Dr. King's Principles and Steps of Nonviolence. Then, in the spirit of Dr. King's quote "What are you doing for others?," support our Beloved Community as we assemble toiletry packs for participants and neighbors in need.
In person event
Cost: Free
Masks: Required
Hyde Park Art Center | Southside Stories
1/16/23
Join South 11a-3pm Side spaces, Arts + Public Life, Court Theater, Intonation, Lumpen Radio, and more, join us and celebrate Martin Luther King Jr. and honor the legacy of historical Black leaders, spaces, and stories from the Southside of Chicago.
Schedule of Events

11am – 3pm

South Side Home Movie Project Screenings
South Side Stories Podcast with HPAC and Intonation Teens and Lumpen Radio
Drawing the Southside with Mobi Coloring
South Side Institution and Organization Info-Tables

12pm-1pm

Florence Price Performance with Members of the Civic Orchestra of Chicago

1pm-2pm

Something Outta Nothing: A Conversation with Kahari Blackburn and Sulyiman Stokes

2pm-3pm

The Southside's Urban Griot: Bill Walker with Juarez Hawkins
In person event
Cost: Free
Masks: Required
Kenwood Academy | We Are One
1/16/23, 10am – 2pm [Event for middle and high school students]
Alpha Kappa Alpha Sorority, Incorporated, Chi Omega Omega and Tau Mu Chapters in partnership with the Imani Pearls Community Development Foundation are hosting "MLK Day of Service 2023: We are One." Breakout sessions will cover several highlighted financial topics, voter education, and a public servant's guide to leadership, all led by members of the Divine Nine Greek organizations. Food and giveaways are also included as well as a closing dance party to celebrate the day!
In person event
Cost: Free
Masks: Unknown
Forest Preserves of Cook County Sand Ridge Nature Center | MLK Day of Service
1/16/23, 10am-3pm
Stop by the nature center to participate in a self-led litter pick-up. Garbage bags and disposable gloves available.
In person event
Cost: Free
Masks: Outdoor event
United Way of Metropolitan Chicago | Martin Luther King Jr. Day: A Day of Understanding and Service
1/16/23, 9am – 10am
In honor of Martin Luther King Jr. Day, join Dr. Reuben Jonathan Miller – a 2022 MacArthur Fellow, sociologist, criminologist, and author – for the exclusive virtual conversation "Mass Incarceration, Returning Citizens, and a Vision Forward." Dr. Miller's work focuses on the systemic injustices in our carceral system and the effects that carry over to both returned citizens and their loved ones. In honor of the late Dr. Martin Luther King Jr., Dr. Miller will offer his critique of the system while proposing ways to extend Dr. King's vision of equity and justice to this vulnerable population.
Virtual event
Cost: Free
Masks: N/A
Village of Flossmoor | Day of Service
January 2023
The Village of Flossmoor has multiple organizations and projects in need of volunteers or donation, from outdoor cleanup to blanket making.