Critically acclaimed performer returns to the stage at Access Living
Tekki Lomnicki, writer, director, teacher, and performer will perform at Access Living's Fall Fundraiser, Comedy & Cocktails, on Thursday, November 14, 2019. "We are so excited to have an artist of Tekki's caliber and experience back at Access Living," said Daisy Feidt, Acting CEO of Access Living.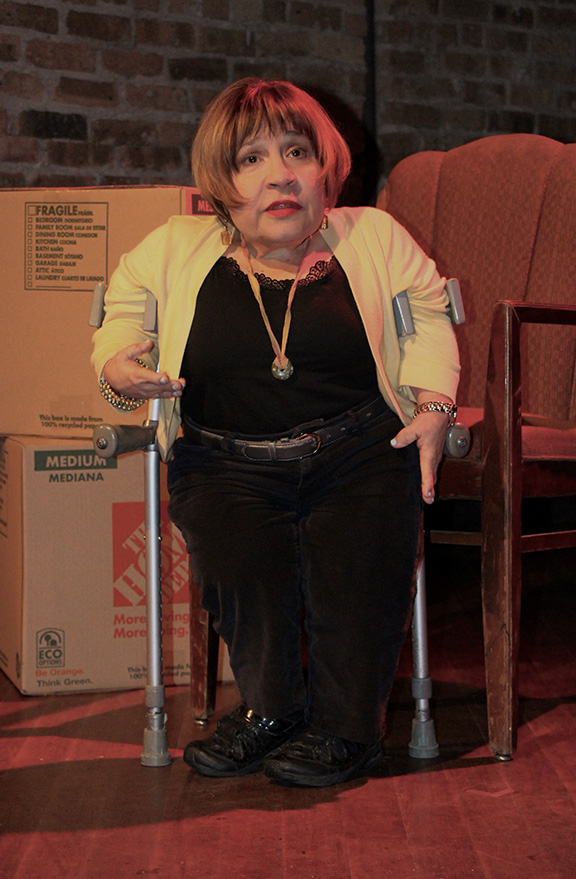 As an artist with a disability, Tekki has dedicated her craft and her career to breaking down the barriers between the disabled and non-disabled worlds, and to finding ways to incorporate her abilities and those of others to perform compelling stories. "I believe in the healing power of stories," she said. "And everybody has a story to tell."
Tekki uses her personal narrative in her work, transforming stories from her life into powerful solo shows. Tekki performs at schools, conferences, and theaters all over the United States and Canada. Her work explores (among other things) the intersection of issues like disability and body image, and what it's like to grow up disabled and Catholic. Her stories use humor, poignancy, and raw honesty to draw her audiences together, regardless of ability, through the recognition of our commonalities instead of our differences.
Outside of her solo work, Tekki is the artistic director of Tellin' Tales Theatre, a Chicago theater company now entering its 25th year. Tellin' Tale brings together children and adults from the disabled and non-disabled communities to share their stories, produce innovative theater, and create a bridge between the two worlds. Tellin' Tales strives to be all-inclusive on stage and off. From the production crew to the performers to the audience – there are people with disabilities of all kinds, as well as those without.
Tekki is the recipient of numerous awards and fellowships, including an Illinois Arts Council Artists Fellowship in New Performance Forms, the 2008 3Arts Artists Award in Theater, the 2010 Grigsby Award for Excellence in Solo Performance, and the Dan Van Hecke award for outstanding leadership and service to the disability community.
As Tony Adler of the "Chicago Reader" said, "Tekki Lomnicki is a dwarf who's also a great monologuist with a funny, powerful, vivid autobiographical show it would be a bummer to miss."
A longtime friend of Access Living, Tekki is donating her performance at Comedy & Cocktails in memory of Access Living's late CEO Marca Bristo.