Action Alert: Electric Skin Shocks Continue at the Judge Rotenberg Center, Voting Rights Crisis, Upcoming Disability Cultural Events
There's been a lot happening in disability issues lately, and today we'd like to catch you up on some hot topics nationally and locally. Read on for more.
Electric Skin Shocks to Continue at Judge Rotenberg Center:
Last week, a court ruled that the Food and Drug Administration (FDA) does not have the authority to ban the use of the graduated electronic decelerator (GED). There is one school in the nation that uses the electronic decelerator on students, the Judge Rotenberg Educational Center in Massachusetts. Per this article, between 45 and 50 of the 275 students at the school receive shocks through the electronic decelerator. Many disability advocates have long fought to end the use of the GED on students with disabilities; the court's ruling is an upsetting setback.
Disability leaders have vowed to push back. See statements from Autistic-led groups:
Voting Rights Crisis in Texas:
The Texas legislature is currently in the process of ramming through state legislation that would severely impact the right of many folks to vote, including people with disabilities. Disability advocates spent over 15 hours at the Texas Capitol over the weekend for a chance to testify against the proposed voting limits.
A vote could happen today. Disability voting advocates in Texas provided the following key details:
Some of the proposals will make it harder to vote by mail because people with disabilities will be required to prove they are disabled before receiving the ballot by mail and a person will also be required to have perfectly matching signatures.
It makes ridesharing to the polls very difficult because multiple people with disabilities and their assistants can not stay in the vehicle and vote at the same time.
People who assist us to vote may be criminally prosecuted for assisting us if someone challenges our right to assistance. The charge may go as far as to be considered a felony.
Please take action in supporting Texans with disabilities' right to vote by contacting the following people and letting them know that you are against SB1 and HB3:
Governor Greg Abbott, phone (512) 463-2000, Twitter @GovAbbott
Lt. Governor Dan Patrick, phone (512) 463-0001, Twitter @LtGovTX
Speaker of the House Dade Phelan, phone (512) 463-1000, Twitter @DadePhelan
Sample Tweet: Access to voting for millions of disabled Texans is under attack in #SupressionSession including vote by mail, curbside voting, and assistance with voting may result in criminal charges. @GovAbbott @LtGovTX @DadePhelan, vote no on #SB1 #HB3. #TXLege #REVUp #CripTheVote
---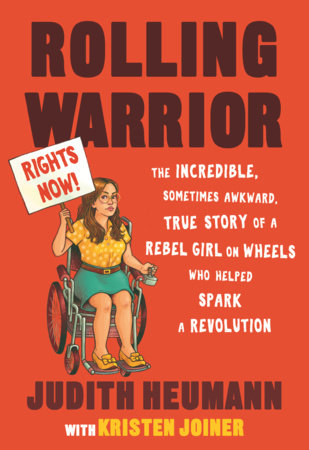 Upcoming Book Talk:
On a more upbeat note, Access Living and the Chicago bookstore Women and Children First will be holding a free virtual event to celebrate "Rolling Warrior, The Incredible, Sometimes Awkward, True Story of a Rebel Girl on Wheels Who Helped Spark a Revolution," by Kristen Joiner, and Judith Heumann. Co-authors Heumann and Joiner will discuss their new adaptation with journalist, author, and screenwriter Keah Brown. The discussion is on Wednesday, July 21 from 5-6 pm Central time. Register for the event here.
Disability Futures Festival:
You will also not want to miss the upcoming Disability Futures Festival, which is free, online, and starts on July 19. A wide range of disability media artists and thinkers will be discussing and presenting their work in thoughtful conversation.