Mary Lee Ahern
DJMC & YIELD Coordinator
The Disability Justice Mentoring Collective (DJMC)
Access Living's award-winning youth mentoring program is called the Disability Justice Mentoring Collective (DJMC), and it connects young people who have disabilities with adult mentors.
Make connections, build independence, & explore new skills
DJMC is for young people with disabilities in grades 6 through 12. Mentors are adults with or without disabilities who volunteer their time
Each mentor/mentee pair agrees to meet for five hours total throughout each month. One of their monthly meetings can be with the rest of the program participants at a DJMC group meeting
DJMC is a year-long commitment for both mentors and mentees, although many continue to participate after that year is up
Both mentees and mentors must fill out the appropriate paperwork linked on this page before coming to their first meeting
Now Recruiting: Youth with disabilities from the Austin neighborhood of Chicago. Youth from other Chicago neighborhoods are also eligible. See full neighborhood list below.
---
How do I get a mentor?
Well, To get started, visit the mentee application page! To participate as a mentee you must:
Have a disability*
Be in any grade between grades 6 through 12 and enrolled in school.
Live in the City of Chicago in one of the following neighborhoods: Albany Park, Austin, Auburn Gresham, Avalon Park, Avondale, Belmont Cragin, Brighton Park, Chatham, Chicago Lawn, Douglas, East Garfield, Englewood, Gage Park, Grand Boulevard, Greater Grand Crossing, Humboldt Park, Hyde Park, Morgan Park, Near Westside, New City, North Lawndale, Pullman, Riverdales, Rogers Park, Roseland, South Chicago, South Lawndale, South Shore, Washington Heights, Washington Park, West Englewood, West Garfield Park, West Pullman, West Ridge, West Town, or Wood Lawn.
Youth need to fit into one of the following categories:

Deemed academically off track according to CPS;
Have low school attendance (missed more than 40% of the academic school year);
Have between 1-3 in-school disciplinary infractions;
Have limited police involvement (fewer than 3 arrests);
Have heightened exposure to violence/trauma based on their residency in community areas that have experience high rates of gun violence and homicides.
*Youth with all kinds of disabilities are welcome and encouraged to apply.
Visit the mentee application page and start your paperwork online, download and fill out the paperwork in the 'Resources' section of this page, or send an email to our Youth Team
We'll contact you with next steps. Sometimes it can take a little while before we can pair you with a mentor. Please be patient. We do our best to find you a mentor match quickly. Once we have processed your paperwork, you're welcome to attend the monthly DJMC meetings at Access Living even if you haven't been paired with a mentor yet.
---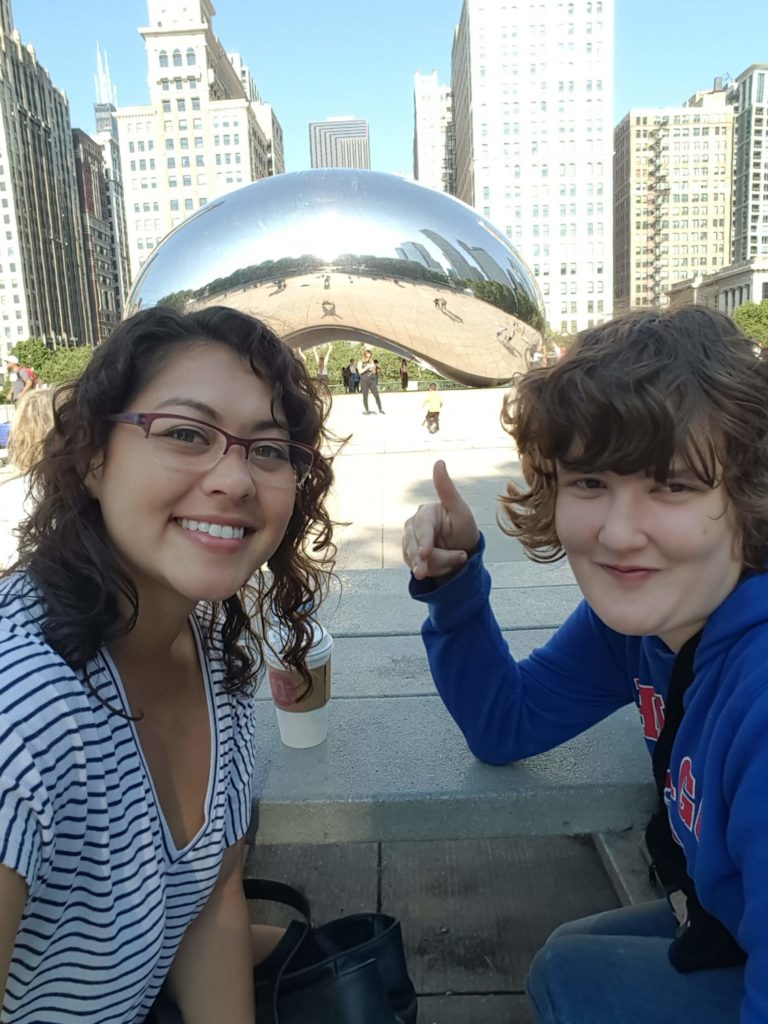 How can I volunteer to be a mentor?
Mentors are in high demand, and if you'd like to become one, we'd love to have you join DJMC! Here's where you can fill out the mentor application online. To be a mentor you must:
Be at least 21 years old
Pass a series of background checks
Complete mandated reporter training
Meet with the DJMC coordinator for an in-person interview. This person will also ensure you are not on the sex offenders list.
Use and honor disability-positive language and respectfully interact with people from all walks of life
Commit to participating in the DJMC program for one year
Commit to meeting with your mentee for five hours per month during that year
Commit to helping youth improve in an area of concern (e.g. increased school attendance, improved academics) and be willing to work as a cohort, and be connected to teachers and student's support network.
To get started, visit the mentor application page and start your paperwork online, download and fill out the paperwork in the 'Resources' section of this page, or send an email to our Youth Team
---
DJMC group meetings
DJMC meets as a group the second Saturday of every month.
When: 12 to 2 p.m.
Where: Virtual location such as Zoom
Who: All DJMC mentors and mentees
Things to know: Lunch is served at each group meeting. A different topic is covered every month. We host speakers, hold discussions, and/or engage in activities as a group.