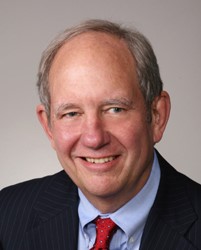 John Schmidt is partner in the Chicago law firm of Mayer Brown LLP. From 1994 to 1997, he served as the Associate Attorney General in the United States Department of Justice where his responsibilities included oversight of the Civil Rights Division, its enforcement of the Americans With Disabilities Act, and other federal statutes protecting the rights of people with disabilities. From 1993 to 1994 he was Ambassador and Chief U.S. Negotiator to the global trade talks that resulted in the creation of the World Trade Organization.
He has served in a variety of other public and professional leadership positions, including: Chair of the Metropolitan Pier & Exposition Authority (responsible for the redevelopment of Navy Pier in downtown Chicago); Transition Chief and initial Chief of Staff to Mayor Richard M. Daley; President of the Chicago Council of Lawyers; Chair of the Illinois Guardianship and Advocacy Commission; Trustee of Illinois Institute of Technology and Chair of the Board of Overseers of IIT Chicago-Kent Law School; and Chair of the Editorial Board of Chicago Lawyer. He has been a Trustee of the Chicago Symphony Orchestra since 1977.
He has received various professional and civic awards including: The Edmund Randolph Award for Distinguished Service to the United States Department of Justice; the Judge Learned Hand Human Relations Award from the American Jewish Committee; and the International Association of Chiefs of Police Award for Contribution to American Law Enforcement. His professional work as counsel in a variety of major corporate and public infrastructure transactions has also received recognition including his designation as Dealmaker of the Year by the American Lawyer and as one of the 100 most influential lawyers in America by the National Law Journal. He is a graduate of Harvard College and Harvard Law School at Harvard University.